Greetings from your DCPB executive team!
We hope that you enjoyed a vibrant and energizing annual meeting in Austin in January, and that you have stayed well in the continuing aftermath of this challenging pandemic. We feel hopeful to see that things are slowly opening up and becoming more "normal," but in many ways we will still be experiencing and healing from the challenges and deprivations of the pandemic for a long time to come. We are here to support you and love to hear from you, so we encourage all our members to reach out to any members of the DCPB executive team if you have any concerns, questions, or news to share with us.
DCPB executive officers
Chair: Jon Harrison (01/2022-01/2024)
Chair-Elect: Jason Podrabsky (01/2023-01/2024 )
Past Chair: Ken Welch (01/2022-01/2024)
Secretary: Caroline Williams (01/2022-01/2024)
Program Officer: Alex Gerson (01/2023-01/2025)
Student/Postdoc Representative: Lisa Triedel (03/2023-01/2026)
This year, we welcomed new Program Officer Alex Gerson, taking over from Mike Sears. Thank you to Mike for his excellent service to the division. Alex is an Associate Professor at University of Massachusetts, Amherst, who studies avian ecophysiology and migration. Alex is excited to begin his term as Program Officer, and is looking forward to planning the upcoming meeting. We already have a number of exciting symposia lined up and we will share more details as they become available. Lisa Triedel has taken over as Student and Postdoctoral Affairs Committee (SPDAC) representative, replacing Maria Stager who has taken a faculty position at University of Massachusetts, Amherst. We congratulate Maria on her new lab, and thank her for her continuing service to DCPB on the nominations committee (with Past Chair Ken Welch).
Lisa Triedel is a postdoc in the Montooth lab at University of Nebraska at Lincoln, and studies the evolutionary ecology and physiology of flight in wing polymorphic Gryllus crickets. Lisa is excited to be representing DCPB trainees as SPDAC, and please don't hesitate to reach out (ltreidel2 'at' unl 'dot' edu) if you have any ideas for programming and support from SICB that you would like to see specifically for graduate students and postdocs.
If there is any general news you would like to share with the DCPB membership, including job ads, postdoctoral positions, and opportunities for students, please feel free to contact Caroline at Secretary.DCPB@sicb.org. Caroline's term as Secretary will end after the next annual meeting, so we will be holding elections for Secretary this spring. We have two outstanding candidates – Kate Wilsterman and David Ensminger (see candidate bios at the end of this newsletter). Thank you to both of our candidates for their willingness to serve DCPB. Please vote for this important position, and consider serving DCPB in the future!
Please make sure you check your membership affiliations on the SICB website – our membership is down to 182 from 246 before the website transition, so we are still missing a significant proportion of our members. The divisional dues are an important part of our budget for now, so please check those affiliations and pay the divisional dues. Our division's strength is determined by our members' engagement. Please let any member of the executive team know if you have ideas for how DCPB can support you.
SICB Annual Meeting 2023, Austin TX
DCPB members submitted 129 abstracts for the 2023 meeting, and the division co-sponsored the following six symposia:
Sexual diversity and variation, Organizers: Kelsey Lewis, Sam Sharpe
Daily torpor across birds and mammals: Recent progress and how do we advance the field?, Organizers: Anusha Shankar, Kenneth Welch
Pathways to adulthood: environmental, developmental, and evolutionary influences on the ontogeny of form and function, Organizers: Terry R. Dial, Mark C. Mainwaring, Ashley M. Heers
Large-scale biological phenomena arising from small-scale biophysical processes, Organizers: Jeanette Wheeler, Karen Cha
Biology at birth: the role of infancy in providing the foundation for lifetime success, Organizers: Christopher Mayerl, Rebecca German
Envisioning a Diverse, Inclusive & Safe Future for Field Biology, Organizers: Vanessa K Hilliard Young, Robin Verble, Corinne L. Richards Zawacki
The notes from the DCPB member meeting in Austin are available on the SICB website. Thanks to those who attended.
George Bartholomew Award
Each year the Division of Comparative Physiology and Biochemistry recognizes a young investigator for distinguished contributions to comparative physiology and biochemistry or to related fields of functional and integrative biology. The 2023 Bartholomew Award winner was Dr. Eric Riddell, of the Department of Ecology, Evolution and Organismal Biology at Iowa State University, speaking about "Organismal physiology as a lens into the fundamental niche." In his talk, Eric illustrated how the principles of organismal physiology can improve our understanding of the mechanisms that shape the fundamental niche in terrestrial animals, using an approach that integrates first principles, physiological experiments, and natural history to generate spatially-explicit maps of organismal performance. The Bartholemew Award lecture was followed by a social co-sponsored by DEDE, which was well attended and catered. We would like to thank John Lighton and Robbin Turner at Sable Systems for their continued generous support of the Bartholomew award.
Best Student Presentations
The winners of the Best Student Presentation awards for the SICB annual meeting 2023 were Aurora Alvarez-Buylla (Stanford University) and Kyle Raney (Colorado State University). Holding this award competition requires the volunteer contribution of many judges, so we would like to thank Alex Gerson, Alex Gunderson, Catherine Ivy, Danielle Levesque, David Ensminger, Don Powers, Ed Dzialowski, Greg Ragland, Jessica Dudley, Karen Naumovitz, Ken Welch, Kimberly Sheldon, Maria Stager, Patricia White, Paul Schaeffer, Wendy Hood, Natalie Doody, Haruka Wada, and Wes Dowd for their contributions. We also thank SICB Secretary Michele Johnson for her heroic efforts to coordinate the Best Student Presentation awards at the society level, in the face of considerable technical difficulties this year! The Best Student Presentations are described below.
Best student talk: Aurora Alvarez-Buylla, Stanford University
Title: Adaptations to deadly diets: a poison frog plasma protein mediates alkaloid transport
"My main PhD work has focused on identifying toxin binding proteins in poison frog plasma. We have found that a member of the serine protease inhibitor family, which we have called "Alkaloid Binding Globulin" is able to bind multiple different alkaloids and is likely involved in toxin sequestration. ABG also shows similarities to mammalian hormone carriers. We are excited to follow up on these findings with a better understanding of the physiology of ABG and how it transports dietary toxins to the skin."
Best student poster: Kyle Raney, Colorado State
Title: Characterization of Catalase and its Role in Molting in G. lateralis and C. maenas
"I am a fourth-year undergraduate student at Colorado State University majoring in biology. My research focuses on characterizing catalase in the blackback land crab (Gecarcinus lateralis) and green crab (Carcinus maenas). Through looking at it's differential transcript and/or protein expression, we hope to utilize catalase as a biomarker for the molt stage of our study organisms. Right now, our current hypothesis is that catalase efficiency will strongly correlate to molt stage and thus, an efficiency assay will be an optimal way to stage the crabs in their molt cycle."
Over a decade of bringing Insect Researchers together at SICB!
Written by Brent Sinclair, Caroline Williams, and Kimberly Sheldon.
The 10th annual Insecty Drinks took place in Austin during SICB 2023. This event was started by DCPB member Brent Sinclair in 2013 as a sit-down dinner, to remedy his ongoing problem of getting too gregarious at the poster session and ending up hangrily wandering the host city looking for a table for 35 like-minded insect scientists. In just a couple of years it grew to over 50 participants, and it switched to after-dinner drinks, with DCPB member Kimberly Sheldon arranging a venue, trying to outdo herself each year with better and better locales. Since then, Insecty Drinks has taken place in some form at almost every SICB meeting and is a highlight for many people, typically bringing together 100 or more participants in an international network of insect integrative biology. Many DCPB members have contributed to organizing the event throughout the years. Insecty Drinks has always been informal: the organizers create an invite list by performing a sophisticated search of SICB abstracts and titles for give-away terms like 'insect', adding the "regulars" to the list, and then making it clear to spread the word that all are welcome.
The last Insecty Drinks before the pandemic, in Austin 2020, was particularly memorable for the organizers. Leading up to the meeting, finding a suitable venue that could accommodate 100 people was challenging. Kimberly was arriving late to the meeting and so asked Caroline Williams to scope out a proposed venue – The Jackalope. Caroline headed down 6th street at lunchtime to check it out, and finding a quiet dive bar with lots of seating she reported back to Kimberly that all seemed fine. The team sent out the Insecty Drinks invite, and then (on a second visit to the Jackalope) realized that the venue was decorated with a wild and vivid display of highly inappropriate images! Not really an inclusive venue! Kimberly emailed Caroline in alarm, certain she'd be written up for a code of conduct violation (and questioning Caroline's powers of observation), and they rapidly found Bangers Sausage House and Beer Garden – an outdoor beer garden, resplendent with *appropriate* decor. The event was a great success. Little did we know it would be several years before we would again gather to talk about insects over a beverage.
In January 2023, as if no time had passed, Insecty Drinks was once again held in person, once again at Bangers Sausage House and Beer Garden in Austin. It's good to be back! If you'd like to be part of the Insecty Drinks tradition, reach out to Kimberly Sheldon, Brent Sinclair, or Caroline Williams before the next meeting.
A history of Insecty Drinks:
| | | |
| --- | --- | --- |
| 2013 | San Francisco | The Stinking Rose |
| 2014 | Austin | Frank's Dogs |
| 2015 | West Palm Beach | Unknown location for dinner, Civil Society Brewing afterparty |
| 2016 | Portland | Old Town Pizza (a haunted brewery!) |
| 2017 | New Orleans | Hermes Bar, Antoine's restaurant |
| 2018 | San Francisco | Bergerac |
| 2019 | Tampa | Four Green Fields |
| 2020 | Austin | Bangers Sausage House and Beer Garden |
| 2021 | Virtual | Wonder.me |
| 2023 | Austin | Bangers Sausage House and Beer Garden |
Amendments to the DCPB Bylaws
A recent review of the DCPB bylaws and discussions with journal editors have revealed that the DCPB bylaws are out of date and not being followed. In particular, the old bylaws indicate a degree of control of the journals by SICB/DCPB which is not legally correct. The proposed new bylaws aim to correctly define the relationships between the associated journals and the
division while promoting positive relationships. Please see the proposed amendments here, and vote on them in the Spring SICB elections – the ballot is available here.
Candidates for DCPB Secretary
David Ensminger
Current Position: Assistant Professor, Department of Biological Sciences, San José State University
Education: B.Sc., University of California, Santa Cruz (2012); M.Sc., Sonoma State University (2014); Ph.D., Pennsylvania State University (2019); Postdoctoral Fellow, Western Kentucky University (2019); Postdoctoral Fellow, University of California, Berkeley (2021)
Professional Experience: Assistant Professor, San José State University (2021-Present)
SICB Activities: DCPB student judge (2021, 2023); DAB student judge (2021, 2023); DAB Mentoring Program, (2021-2023); Authored or coauthored 13 poster/presentations, Attended annual meetings: 2014, 2016, 2017, 2018, 2019, 2020, 2021 (Virtual), 2022 (Virtual), 2023.
Other Memberships: Society for the Advancement of Chicanos/Hispanics and Native Americans in Science, Annual Biomedical Research Conference for Minority Students
Research Interests: Our lab works at the interface of two topics: 1) the physiological responses to ecological stressors and 2) how these responses alter an individual's interactions with one another and their environment. Our goal is to gain a mechanistic understanding of an organism's response to environmental perturbations by linking molecular and physiological responses to ecological phenomena while supporting each-other's growth and aspirations. We use diverse taxa, including wild fence lizards and elephant seals, to assess health, survival, and potential fitness consequences of various stressors. Currently we are examining the impact of stress during gestation in fence lizards and stress during lactation in elephant seals and the physiological and behavioral responses this causes in offspring.
Statement of Goals: SICB was the first conference I went to, and it has been the most transformative for me. From the collaborative and inviting nature of everyone to the fantastic research and ideas that are exchanged, SICB has helped me grow as a researcher, colleague, and person. If given the honor of serving as the DCPB Secretary, my main goals are to continue thorough and informative messages as well as building the sense of community in our division through thoughtful interactions. While working with the other officers to continue producing valuable newsletters, I will also work to ensure that our communications are always welcoming and open, the way DCPB has always been to me. Additionally, I will work with the other divisions at SICB and societies, such as SACNAS and ABRCMS, to continue growing and diversifying division participation in the annual meetings through supportive communications and information.
Kate Wilsterman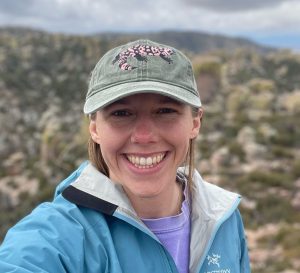 Current Position: Assistant Professor, Biology, Colorado State University
Education: B.Sc., Bucknell University (2014); Ph.D., UC Berkeley (2019); Post-doctoral Fellow, Univ. of Montana (2019-2022)
Professional Experience: Assistant Professor, Colorado State University (2022 – present); Integrative and Comparative Biology (ICB), non-divisional assistant editor (2021); ICB NSF Jumpstart Biology Initiative Issue Guest Editor (2020-21).
SICB Activities: Member (2014 – present); DCE Poster Judge (2022); Broadening Participation Mentorship program mentor (2018, 2021, 2022).
Other Memberships: Society for the Study of Evolution, Society for the Study of Reproduction
Research Interests: My fundamental interests are tied to understanding how environmental and physiological cues interact with organismal biology to influence life history and fitness. These broad interests have led to research on questions ranging from the physiology and evolution of animal dormancies to neurobiology mediating energetic trade-offs. However, my primary research is focused on the physiology that shapes reproductive output and the mechanisms that are responsible for variation in reproductive traits among and within species. My lab combines tools and perspectives from comparative physiology and endocrinology, functional genomics, and evolutionary biology to link genetic variation to cellular biology, organ system function, and organism-level outcomes. We primarily focus on placenta development and gestational physiology in mammals. On-going research in the lab is using deer mice as a model mammalian system to understand how adaptation to pervasive hypoxia in high elevation environments has altered gestational physiology and how these adaptations impact organ system interactions.
Goals Statement: SICB was my first meeting as an undergraduate and has continued to be a regular part of my conference circuit, particularly because of its commitment to supporting trainees. As an assistant professor, I am now looking to contribute to SICB's impact as part of DCPB leadership. In this capacity, I aim to promote three main priorities: (1) equitable networking and connection development among our newest members, (2) divisional representation and participation in SICB-wide student development and support, and (3) strong connections among SICB divisions. As DCPB Secretary, I will promote these goals through our regular Divisional newsletter and I will identify new opportunities to expand these efforts through our communications with membership, divisional leadership, and SICB-wide leadership. I am also excited to help continue and expand many of the current initiatives DCPB is using to support our up-and-coming members, including promoting the member spotlights, expanding our active twitter presence, and collating input from our membership at large.