SICB Divisions


SICB Division of Evolutionary Developmental Biology (DEDB)
On this page:
Other Divisional Resources
Archives
News and Announcements
Proposed 2016 DEDB Bylaws Change
From the DEDB Researchers Database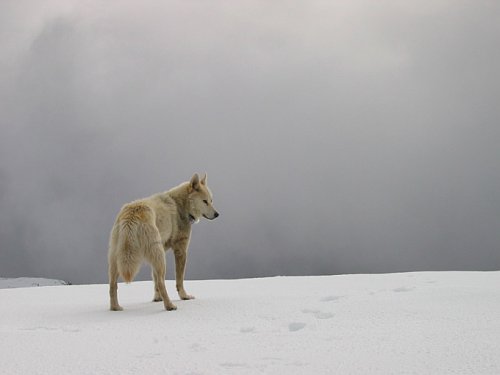 Matthias Starck
Research on Inuit dogs in Greenland (photo: Nadine Gerth)
In my lab, we study phenotype-environment interactions in vertebrates, i.e., we are interested in structural and functional responses of the organism to changes in the environment. We integrate morphological and physiological approaches to gain a mechanistic understanding of phenotype changes. We use non-invasive Duplex-ultrasonography in combination with minimal invasive biopsy techniques to obtain repeated measures of individuals under variable physiological conditions in the field and in the lab. The goal of this research program is to understand patterns and processes underlying organ size changes on the basis of cellular mechanisms. Current projects include studies on sled dogs in Greenland, digestive physiology of constrictor snakes, and a comparative study heart function of sauropsids under different physiological conditions.

http://www.biologie.uni-muenchen.de/ou/morpho/index.html
Click here for a complete listing of the DEDB Researchers Database
.
---
News and Announcements
NSF Solicitations 2012
Two components of NSF's Biology Directorate announce a significant change in proposal deadlines. This change is very important to SICB members who are considering submitting NSF proposals in the fields of Developmental Biology, including the development of the nervous system; on Evo/Devo research; and on research on Evolution and Systematics. It is effective immediately and will affect everyone who was planning to submit a proposal during 2012. We are no longer accepting full proposals in January. Instead, we will accept pre-proposals on January 12, 2012 and invite a subset of those to submit full proposals on August 2, 2012. Full proposals will not be accepted in January, and will be accepted in August by invitation only. If you are writing, or considering writing, a new proposal or a revision for January 2012, it must be submitted as a pre-proposal. If you were planning to submit a proposal during the summer of 2012, you must submit a pre-proposal in January 2012. An exception is proposals for CAREER awards, which may be submitted on the due date listed in the CAREER solicitation. They do not require pre-proposals.
The Special NSF Announcement is at
http://www.nsf.gov/dir/index.jsp?org=BIO
The solicitations are at
IOS:
http://www.nsf.gov/pubs/2011/nsf11572/nsf11572.htm
DEB:
http://www.nsf.gov/pubs/2011/nsf11573/nsf11573.htm
New Open Access EvoDevo Journal
We would like to announce a brand new journal,
EvoDevo
(
http://www.evodevojournal.com/
) launched by BioMed Central, that is currently accepting manuscript submissions.
EvoDevo is an online, peer-reviewed open access journal that publishes articles associated with the translation of genotype to phenotype in a phylogenetic context. Understanding the history of life, the evolution of novelty and the generation of form, whether through embryogenesis, budding, or regeneration are amongst the greatest challenges in biology. We support the understanding of these processes though the many complementary approaches that characterize the field of evo-devo.

The focus of the journal is on research that promotes understanding of the pattern and process of morphological evolution. All articles that fulfill this aim will be welcome, including topics such as:
evolution of pattern formation

comparative gene function/expression
life history evolution
homology and character evolution
comparative genomics

phylogenetics and palaeontology
For further information on the journal and a list of the main areas of interest please see the 'About EvoDevo' page.
Submit your research to EvoDevo and take advantage of an efficient online submission process and a rapid, high quality peer-review service. There are no extra charges or limits on the number of color figures or movies you wish to include.
We are now accepting manuscripts to EvoDevo that will be modeled on Neural Development, a BioMed Central developmental neurobiology journal that you can find at www.neuraldevelopment.com. All BioMed Central journals are included in PubMed Central and other freely accessible full-text repositories. This complies with the open access policies of many funders including those of the Howard Hughes Medical Institute, NIH, and Wellcome Trust.
So hurry up and submit your manuscript via our online submission system. For more information about the journal, contact editorial@evodevojournal.com or visit our instructions for authors.
Thanks!
Mark Q Martindale and Max Telford
The Editors-in-Chief, EvoDevo
Join the Evo-Devo email list!
DEVELOPMENT AND EVOLUTION E-MAIL LIST
The list is intended to provide a forum for sharing information relevant to the study of development and evolution. This information may include, but is not limited to, announcements of upcoming meetings and symposia, suggestions regarding research funding opportunities, citations of recent literature published in specialized journals that might be of interest to (but otherwise missed by) a broader audience, and requests for materials, specimens, probes, phylogenies, etc., etc., etc. Participation in the list is open to anyone interested in development and evolution. People receiving this message are encouraged to pass along word of its existence to others, along with the following instructions regarding how to join.
HOW TO SUBSCRIBE TO THE LIST.
Send the following message:
Address:
listproc@lists.Colorado.EDU
Message: subscribe evo-devo



HOW TO GET OFF THE LIST. Send the following message:
Address: listproc@lists.Colorado.EDU
Message: unsubscribe evo-devo

HOW TO SEND MESSAGES TO THE LIST (copies will go to all subscribers).
Address messages to: evo-devo@lists.Colorado.EDU

If anyone has specific questions, comments, or suggestions about the list, please send them to Pam Diggle, diggle@spot.colorado.edu.





---
Officers & Representatives
Click on name for contact details




---
DEDB Memberlist
Click on name for contact details


| | |
| --- | --- |
| Charles Crumly &nbsp | Taylor & Francis / CRC Press &nbsp |
| Tobias B. Grun &nbsp | University of Florida &nbsp |
| Maria Abate&nbsp | Simmons University&nbsp |
| John Abramyan&nbsp | University of Michigan Dearbor&nbsp |
| Arkhat Abzhanov&nbsp | Imperial College London&nbsp |
| Raghav Acharya&nbsp | Georgia Institute of Technolog&nbsp |
| Kerri Ackerly&nbsp | University of Texas at Austin&nbsp |
| Nikki Adams&nbsp | Cal Polytechnic State Univer&nbsp |
| Brent Adrian&nbsp | Midwestern University, Anatomy&nbsp |
| Mehrnaz Afkhami&nbsp | University of Oklahoma&nbsp |
| Miguel Agostinho Pina da Silva&nbsp | University of Arkansas&nbsp |
| Elizabeth Aguilar&nbsp | Indiana University Bloomington&nbsp |
| Caroline Albertin&nbsp | Marine Biological Laboratory&nbsp |
| Craig Albertson&nbsp | &nbsp |
| Rachael Allen&nbsp | &nbsp |
| Joshua Allen&nbsp | Simon Fraser University&nbsp |
| Cara Allen&nbsp | &nbsp |
| Marianne Alleyne&nbsp | University of Illinois at Urba&nbsp |
| Sebastian Alvarado&nbsp | Queens College CUNY&nbsp |
| Beau Alward&nbsp | University of Houston&nbsp |
| Chris Amemiya&nbsp | Univ. California, Merced&nbsp |
| David Angelini&nbsp | Colby College&nbsp |
| Anthony Annunziato&nbsp | Boston College&nbsp |
| Ndotimi Apulu&nbsp | University of Arkansas&nbsp |
| Gloria Arellano&nbsp | &nbsp |
| Roxanne Armfield&nbsp | Yale University&nbsp |
| Lilian Arnaoudoff&nbsp | Loyola University Chicago&nbsp |
| Bassel Arnaout&nbsp | &nbsp |
| Claudia Astorino&nbsp | CUNY Graduate Center&nbsp |
| Oghenevwogaga Atake&nbsp | &nbsp |
| Jennifer Austiff&nbsp | OEB - Harvard University&nbsp |
| Alexis Avila&nbsp | CSUN&nbsp |
| Leslie Babonis&nbsp | University of Florida&nbsp |
| John Bailey&nbsp | University of Southern Mississippi&nbsp |
| John Baker&nbsp | Clark University&nbsp |
| Stephanie Baker&nbsp | Sam Houston State Univeristy&nbsp |
| Nicole Baran&nbsp | Emory University&nbsp |
| Jessica Barkhouse&nbsp | Columbus State University&nbsp |
| Andy Baxevanis&nbsp | National Human Genome Research Institute&nbsp |
| Alexandra Bely&nbsp | Univ of Maryland&nbsp |
| Hugo Benitez&nbsp | Universidad Catolica del Maule&nbsp |
| Cameron Bennett&nbsp | Michigan State University&nbsp |
| Leann Biancani&nbsp | &nbsp |
| Abegail Bigasin&nbsp | UC San Diego&nbsp |
| Audrey Biondi&nbsp | New Jersey Institute of Technology&nbsp |
| Nathan Bird&nbsp | University of Northern Iowa&nbsp |
| Ruediger Birenheide&nbsp | &nbsp |
| David Birlenbach&nbsp | University of Minnesota&nbsp |
| Daniel Blackburn&nbsp | Trinity College&nbsp |
| Samantha Bock&nbsp | University of Georgia&nbsp |
| victoria bogantes&nbsp | Auburn University&nbsp |
| Luke Bollinger&nbsp | Towson University&nbsp |
| Calhoun Bond&nbsp | Greensboro College&nbsp |
| Reed Boohar&nbsp | University of Miami&nbsp |
| Julia Bowsher&nbsp | North Dakota State University&nbsp |
| Alicia Boyd&nbsp | &nbsp |
| Michael Boyle&nbsp | Smithsonian Marine Station&nbsp |
| Ingo Braasch&nbsp | Michigan State University, Integrative Biology&nbsp |
| Stefanie Bradley&nbsp | University of Guelph&nbsp |
| Elizabeth L. Brainerd&nbsp | Brown Univ&nbsp |
| Allyson Brandon&nbsp | Clemson&nbsp |
| Catriona Breen&nbsp | &nbsp |
| Christopher Breen&nbsp | &nbsp |
| Margaux Brewer&nbsp | University of Colorado Boulder&nbsp |
| Kirstin Brink&nbsp | University of Manitoba&nbsp |
| Justin Buchanan&nbsp | &nbsp |
| Shayna Burg&nbsp | Florida Southern College&nbsp |
| Louis Burnett&nbsp | College of Charleston&nbsp |
| Robert Burroughs&nbsp | University of Chicago&nbsp |
| Elke Buschbeck&nbsp | &nbsp |
| Jasmin Camacho&nbsp | Stowers Institute&nbsp |
| Robert Cameron&nbsp | California Institute of Technology&nbsp |
| Mia Camilliere&nbsp | SUNY Geneseo&nbsp |
| Johanna Cannon&nbsp | Academies of Loudoun &nbsp |
| Serena Caplins&nbsp | &nbsp |
| Ghislaine Cardenas-Posada&nbsp | Wake Forest University&nbsp |
| Paulyn Cartwright&nbsp | University Kansas&nbsp |
| Cynthia Chai&nbsp | Caltech&nbsp |
| Katayoun Chamany&nbsp | Eugene Lang College&nbsp |
| Karthikeyan Chandrasegaran&nbsp | Virginia Tech&nbsp |
| Elizabeth Chang&nbsp | &nbsp |
| Mikayla Chang&nbsp | &nbsp |
| Anirudh Chaudhary&nbsp | &nbsp |
| Julia Chaumel&nbsp | &nbsp |
| Raul Chavarria&nbsp | University of North Florida&nbsp |
| Ylenia Chiari&nbsp | George Mason University&nbsp |
| Ariel Chipman&nbsp | The Hebrew Univ of Jerusalem&nbsp |
| Madeline Choi&nbsp | Auburn University&nbsp |
| AUMENA CHOUDHRY&nbsp | TJHSST&nbsp |
| Scott Cinel&nbsp | University of Florida&nbsp |
| Todd Clardy&nbsp | &nbsp |
| James Clegg&nbsp | Univ California Bodega Marine Laboratory&nbsp |
| Hannah Clott&nbsp | &nbsp |
| Darla Clowser&nbsp | OSU-Cascades&nbsp |
| C. Sarah Cohen&nbsp | EOS/ Romberg Tiburon Campus, SFSU&nbsp |
| Kathleen Cole&nbsp | University of Hawaii at Manoa&nbsp |
| Andres Collazo&nbsp | California Institute of Tech.&nbsp |
| Alexandria Collum&nbsp | &nbsp |
| Chloé-Rose Colombero&nbsp | Harvard&nbsp |
| Diego Colon&nbsp | Oklahoma State University&nbsp |
| Mattheau Comerford&nbsp | Rice University&nbsp |
| Hailey Conrad&nbsp | Rutgers University&nbsp |
| Geoffrey Cook&nbsp | New England College&nbsp |
| W. James Cooper&nbsp | Washington State University&nbsp |
| Daisy Cortes&nbsp | UC Santa Cruz&nbsp |
| Brian Counterman&nbsp | Auburn University&nbsp |
| Brian Counterman&nbsp | Auburn University&nbsp |
| Karen Crawford&nbsp | &nbsp |
| Erica Crespi&nbsp | Washington State University&nbsp |
| Charles Crumly&nbsp | Taylor & Francis - CRC Press&nbsp |
| David Cuban&nbsp | &nbsp |
| Mandy Cumming&nbsp | University of North Florida&nbsp |
| David Cundall&nbsp | Lehigh University&nbsp |
| Ben Dantzer&nbsp | University of Michigan&nbsp |
| Kim Thao Dao&nbsp | University of Rochester&nbsp |
| Emily Darin &nbsp | CSU Long Beach &nbsp |
| Zachary David&nbsp | Old Dominion Univeristy&nbsp |
| Brad Davidson&nbsp | Swarthmore College&nbsp |
| Johnny Davila-Sandoval&nbsp | Clark University&nbsp |
| Gregory Davis&nbsp | Bryn Mawr College&nbsp |
| Trevor Davis&nbsp | Florida Atlantic University&nbsp |
| Jennifer Dearolf&nbsp | Hendrix College&nbsp |
| Paul C. Dechow&nbsp | Texas A&M University College of Dentistry&nbsp |
| Irene Del Olmo&nbsp | Universidad Autónoma de Madrid&nbsp |
| Pablo Delclos&nbsp | &nbsp |
| Leah DeLorenzo&nbsp | Clemson University&nbsp |
| Jérôme Delroisse&nbsp | University of Mons&nbsp |
| Alyce DeMarais&nbsp | University of Puget Sound&nbsp |
| Abigail Dennis&nbsp | Trinity University&nbsp |
| Kenneth Dial&nbsp | University of Montana&nbsp |
| Terry Dial&nbsp | Harvard University&nbsp |
| Raul Diaz&nbsp | California State University Los Angeles&nbsp |
| Renee Dickie&nbsp | Towson University&nbsp |
| Raymond Diorio&nbsp | University of Scranton&nbsp |
| Hector Douglas&nbsp | Grambling State University&nbsp |
| Michael Drummond&nbsp | &nbsp |
| Elizabeth Dumont&nbsp | University of California, Merc&nbsp |
| Tilly Duong&nbsp | &nbsp |
| Edward Dzialowski&nbsp | University of North Texas&nbsp |
| Allison Edgar&nbsp | University of Florida&nbsp |
| Shiro Egawa&nbsp | RIKEN BDR&nbsp |
| Christina Ellison&nbsp | University of Oregon&nbsp |
| Sara ElShafie&nbsp | University of California, Berkeley&nbsp |
| Ibrahim Elshesheny&nbsp | University of Nebraska-Lincoln&nbsp |
| Ricardo Ely&nbsp | Indiana University&nbsp |
| Kyle Emerson&nbsp | Duquesne University&nbsp |
| David Epel&nbsp | Stanford University Hopkins&nbsp |
| Katie Erickson&nbsp | Harvey Mudd College&nbsp |
| Alistair Evans&nbsp | Monash University&nbsp |
| Chee Kiang Ewe&nbsp | University of California SB&nbsp |
| Christine Ewers&nbsp | Zoological Museum of the Chris&nbsp |
| Frank Fabela&nbsp | &nbsp |
| Dylan Faltine-gonzalez&nbsp | Lehigh University&nbsp |
| Roy Farman&nbsp | University of New South Wales&nbsp |
| Sean Farmer&nbsp | California State University, Northridge&nbsp |
| Martin E. Feder&nbsp | University of Chicago Dept. of Organismal Biology & Anatomy&nbsp |
| Kathryn Feerst&nbsp | UFL&nbsp |
| Teresa Feo&nbsp | Smithsonian Institution, NMNH&nbsp |
| Daniel Field&nbsp | University of Cambridge&nbsp |
| Jamie Andersen Fields&nbsp | &nbsp |
| Florent Figon&nbsp | Institut de Recherche sur la Biologie de l'Insecte, Université de Tours&nbsp |
| Elise Fiskum&nbsp | California Polytechnic&nbsp |
| Olivia Fitch&nbsp | Michigan State University&nbsp |
| Jessi Florendo&nbsp | University of Washington&nbsp |
| Adam Foster&nbsp | School of Osteopathic Medicine&nbsp |
| Tamara Franz-Odendaal&nbsp | Mount Saint Vincent University&nbsp |
| Gareth Fraser&nbsp | University of Florida&nbsp |
| Anthony Friscia&nbsp | UCLA&nbsp |
| Emily Funk&nbsp | Cornell University&nbsp |
| Megumi Fuse&nbsp | San Francisco State University&nbsp |
| Bryan Gahn&nbsp | &nbsp |
| Guilherme Gainett&nbsp | UW-Madison&nbsp |
| Lia Gavazzi&nbsp | &nbsp |
| Richard Gawne&nbsp | &nbsp |
| Fabrizio Ghiselli&nbsp | University of Bologna&nbsp |
| Randy Gibson&nbsp | US Fish & Wildlife Service&nbsp |
| Jennifer Giffin&nbsp | Mount Saint Vincent University&nbsp |
| Kathy Gillen&nbsp | Kenyon College&nbsp |
| Ariel Gilligan&nbsp | &nbsp |
| Elizabeth Glynne&nbsp | &nbsp |
| Ivan Gomez-Mestre&nbsp | Donana Biological Station CSIC&nbsp |
| Ze Gong&nbsp | UCSD-SIO&nbsp |
| Briana Gonzalez&nbsp | &nbsp |
| Jessica Goodheart&nbsp | UC San Diego&nbsp |
| Mandi Gordon&nbsp | EIH-UHCL&nbsp |
| Candace Grand Pre&nbsp | &nbsp |
| Terry Grande&nbsp | Loyola University Chicago&nbsp |
| Jessica Gray&nbsp | Harvard Medical School&nbsp |
| Jessica Gray&nbsp | &nbsp |
| Todd Green&nbsp | &nbsp |
| Delbert Green&nbsp | University of Michigan-Ann Arb&nbsp |
| Aaron Griffing&nbsp | Marquette University&nbsp |
| Brandon Guell&nbsp | Boston University&nbsp |
| Michael Guernsey&nbsp | Stanford University&nbsp |
| Vanessa Guerra&nbsp | &nbsp |
| Sander Gussekloo&nbsp | Wageningen University&nbsp |
| Samuel Gutherz&nbsp | Ohio University&nbsp |
| Michael Hadfield&nbsp | University of Hawaii Manoa&nbsp |
| Olivia Hagen&nbsp | Reed College&nbsp |
| Alexander Hall&nbsp | Thermo Fisher Scientific&nbsp |
| Jorg U Hammel&nbsp | Helmholtz-Zentrum Geesthacht&nbsp |
| James Hanken&nbsp | Harvard University&nbsp |
| Emily Harmon&nbsp | &nbsp |
| Rayna Harris&nbsp | UC Davis (USA)&nbsp |
| Jacob Harrison&nbsp | Duke University&nbsp |
| Lorrie L He&nbsp | Wellesley College&nbsp |
| Elizabeth Heath-Heckman&nbsp | &nbsp |
| Jennifer Heppner&nbsp | University of Nevada, Reno&nbsp |
| Jayampathi Herath&nbsp | Guangxi University&nbsp |
| Hollister Herhold&nbsp | American Museum of Natural History&nbsp |
| L Patricia Hernandez&nbsp | George Washington University&nbsp |
| Philip Hertzler&nbsp | Central Michigan University&nbsp |
| Laurel Hicke&nbsp | Moscow High School&nbsp |
| April Hill&nbsp | Bates College&nbsp |
| Anthony Himes&nbsp | VIMS&nbsp |
| Christina Hoffman&nbsp | &nbsp |
| Kim Hoke&nbsp | &nbsp |
| Dominique Homberger&nbsp | Louisiana State University&nbsp |
| Yinan Hu&nbsp | Boston College&nbsp |
| Sichuan Huang&nbsp | Arizona State University&nbsp |
| Ryan Hulett&nbsp | Harvard University&nbsp |
| Eve Humphrey&nbsp | &nbsp |
| Carole HYACINTHE&nbsp | Harvard Medical School&nbsp |
| Carlos Infante&nbsp | University of Colorado Denver&nbsp |
| Frances Irish&nbsp | Moravian College&nbsp |
| Evgeny Ivashkin&nbsp | Marine Biological Laboratory&nbsp |
| Kate Jackson&nbsp | Whitman College&nbsp |
| Heather Jamniczky&nbsp | U of Calgary&nbsp |
| Alys Jarvela&nbsp | University of Maryland College Park&nbsp |
| Steven Jasinski&nbsp | University of Pennsylvania&nbsp |
| Hillary Jean-Joseph &nbsp | &nbsp |
| Lawrence Joe&nbsp | Stanford Online High School&nbsp |
| Lauren Johnson&nbsp | &nbsp |
| Aubree Jones&nbsp | University of Rhode Island&nbsp |
| Amanda Kahn&nbsp | Moss Landing Marine Labs&nbsp |
| Jeriyla Kamau-Weng&nbsp | Northeastern University&nbsp |
| Viktoriia Kamska&nbsp | Max Planck Institute for Intel&nbsp |
| Kelly Kang&nbsp | University of Chicago&nbsp |
| Vishwa Teja Kasoju&nbsp | &nbsp |
| Paul Katz&nbsp | University of Massachusetts&nbsp |
| Amanda Katzer&nbsp | University of Kansas&nbsp |
| Chloe Keck&nbsp | &nbsp |
| Christine Keller&nbsp | &nbsp |
| Riley Kellermeyer&nbsp | &nbsp |
| Darcy Kelley&nbsp | Columbia University&nbsp |
| Meredith Kernbach&nbsp | &nbsp |
| David Kikuchi&nbsp | University of Arizona&nbsp |
| Karen Killion&nbsp | Blinn College&nbsp |
| Julian Kimura&nbsp | Harvard University&nbsp |
| Peter Kloess&nbsp | UC Berkeley&nbsp |
| Kevin Kocot&nbsp | The University of Alabama&nbsp |
| Krista Koeller&nbsp | University of Florida&nbsp |
| Kristen Koenig&nbsp | Harvard University&nbsp |
| Sergey Kolchenko&nbsp | &nbsp |
| Dana Korneisel&nbsp | Carleton University&nbsp |
| Kostya Kornev&nbsp | Clemson University&nbsp |
| Johanna Kowalko&nbsp | Florida Atlantic University&nbsp |
| Jacqueline Krantz&nbsp | Florida Southern College&nbsp |
| Kole Kubicek&nbsp | &nbsp |
| Anna Kudla&nbsp | Duke University&nbsp |
| Lauren Kunselman&nbsp | &nbsp |
| Carina Kusaka&nbsp | Colorado State University&nbsp |
| David Lambert&nbsp | Rochester&nbsp |
| Zachary Lane&nbsp | University of Southern MS&nbsp |
| Alexis Lanza&nbsp | &nbsp |
| Olivier Larouche&nbsp | &nbsp |
| Claire Larroux&nbsp | &nbsp |
| Pierre Le Pabic&nbsp | UNCW &nbsp |
| Melise Lecheta&nbsp | University of Kentucky&nbsp |
| David Ledesma&nbsp | University of Texas&nbsp |
| Faith Leri&nbsp | &nbsp |
| Maryna Lesoway&nbsp | UC San Diego&nbsp |
| Matthew Levendosky&nbsp | Georgia Southern University&nbsp |
| Zachary Robert Lewis&nbsp | Yale University&nbsp |
| A. Kelsey Lewis&nbsp | University of Florida&nbsp |
| Sally Leys&nbsp | University of Alberta&nbsp |
| Peishu Li&nbsp | University of Chicago&nbsp |
| Astrid Lisondro Arosemena&nbsp | &nbsp |
| Juan Liu&nbsp | University of California, Berkeley&nbsp |
| Amaneet Lochab&nbsp | Harvard University&nbsp |
| Brent Lockwood&nbsp | University of Vermont&nbsp |
| Jasiel Lopez Juarez&nbsp | &nbsp |
| Nathan Lord&nbsp | Louisiana State University&nbsp |
| Michael Lough-Stevens&nbsp | UniversityofSouthernCalifornia&nbsp |
| Yi-Jyun Luo&nbsp | Harvard University&nbsp |
| Sophia Ly&nbsp | Northeastern University&nbsp |
| Deirdre Lyons&nbsp | Scripps Institution of Oceanog&nbsp |
| Katherine M. Lyser-Shouby&nbsp | &nbsp |
| Henry Macías&nbsp | Pontifical Catholic University&nbsp |
| Aide Macias&nbsp | &nbsp |
| Stephen Mackessy&nbsp | University of Northern Colorad&nbsp |
| Jason Macrander&nbsp | Florida Southern College&nbsp |
| Paul Maderson&nbsp | Brooklyn College&nbsp |
| Anne M. Maglia&nbsp | UMass Lowell&nbsp |
| Jasmine Mah&nbsp | &nbsp |
| Alice Maher&nbsp | &nbsp |
| Anabela Maia&nbsp | Rhode Island College&nbsp |
| Jane Maienschein&nbsp | Arizona State University&nbsp |
| Russell Main&nbsp | Purdue University&nbsp |
| John Majoris&nbsp | King Abdullah University of Sc&nbsp |
| Sandra Marbach&nbsp | &nbsp |
| Marta Marchini&nbsp | &nbsp |
| Heather Marlow&nbsp | &nbsp |
| Rosario Marroquin-Flores&nbsp | Illinois State University&nbsp |
| Karen Martin&nbsp | Pepperdine Univ&nbsp |
| Mark Martindale&nbsp | Univ of Florida&nbsp |
| Alejandro Martinez&nbsp | University of California Davis&nbsp |
| Veronica Martinez Acosta&nbsp | Univ. of the Incarnate Word&nbsp |
| Svetlana Maslakova&nbsp | University of Oregon&nbsp |
| Spencer Mass&nbsp | SUNY New Paltz&nbsp |
| Park Masterson&nbsp | UCSD, Scripps Oceanography&nbsp |
| David Matthews&nbsp | &nbsp |
| Melissa May&nbsp | Florida Gulf Coast University&nbsp |
| Kyle McCulloch&nbsp | Harvard University&nbsp |
| Kyle McCulloch&nbsp | Harvard University&nbsp |
| Amy McCune&nbsp | Cornell University&nbsp |
| Caitlin McDonough&nbsp | Syracuse University&nbsp |
| Amy McElhinney&nbsp | University of Mount Union&nbsp |
| Damhnait McHugh&nbsp | Colgate University&nbsp |
| Shea J.L. McInnis&nbsp | Saint Mary's University&nbsp |
| Sarah McMenamin&nbsp | &nbsp |
| Caryn McQueen&nbsp | &nbsp |
| Abinaya Meenakshisundaram &nbsp | University of Western Austr&nbsp |
| Dacotah Melicher&nbsp | USDA ARS&nbsp |
| Lauren Mellenthin&nbsp | &nbsp |
| Javier Mendez Narvaez&nbsp | &nbsp |
| Lisa Mesrop&nbsp | UCSB&nbsp |
| Taishi Mikami&nbsp | Tohoku University&nbsp |
| Liliana Milani&nbsp | University of Bologna&nbsp |
| Robert Miller&nbsp | University of New Mexico&nbsp |
| Christina Miller&nbsp | University of Queensland&nbsp |
| Craig Miller&nbsp | UC-Berkeley&nbsp |
| Isaac Miller-Crews&nbsp | &nbsp |
| Kat Milligan-Myhre&nbsp | University of Alaska Anchorage&nbsp |
| Sarah Mincer&nbsp | Stony Brook University&nbsp |
| Michael Misamore&nbsp | Texas Christian U&nbsp |
| Juri Miyamae&nbsp | Yale University&nbsp |
| Tetsuto Miyashita&nbsp | Canadian Museum of Nature&nbsp |
| Katherine Montana&nbsp | UC Berkeley&nbsp |
| Ricardo Monzon&nbsp | Saint Xavier University&nbsp |
| Richard Mooi&nbsp | California Academy of Sciences&nbsp |
| Francisco Moore&nbsp | National Science Foundation&nbsp |
| Kevin Morrill&nbsp | UCSD&nbsp |
| Zachary Morris&nbsp | Harvard University&nbsp |
| Nancy S. Mueller&nbsp | &nbsp |
| Dennis Murphy&nbsp | &nbsp |
| Kaitlyn Murphy&nbsp | Auburn University&nbsp |
| Jacob Musser&nbsp | &nbsp |
| Gregory Mutumi&nbsp | UC Merced&nbsp |
| Vivek Nagendra Prakash&nbsp | University of Miami&nbsp |
| Nagayasu Nakanishi&nbsp | University of Arkansas&nbsp |
| Dania Nanes Sarfati&nbsp | Stanford University&nbsp |
| Qamariya Nasrullah&nbsp | University of Adelaide&nbsp |
| Dina Navon&nbsp | UCRiverside&nbsp |
| Stephanie Neal&nbsp | Harvard University&nbsp |
| Thomas Near&nbsp | Yale University&nbsp |
| Brian Nedved&nbsp | Univ of Hawaii Dept Zoology/PBRC&nbsp |
| Lenny Negron-Pineiro&nbsp | New York University&nbsp |
| Michaël Nicolaï&nbsp | &nbsp |
| Matthew Nicotra&nbsp | University of Pittsburgh&nbsp |
| Karl Niklas&nbsp | Cornell Univesity&nbsp |
| Rachel Nix&nbsp | &nbsp |
| Sylvia Nunez&nbsp | Loyola University Chicago&nbsp |
| Richard Nye&nbsp | US Fish and Wildlife Service&nbsp |
| Devin O'Brien&nbsp | Colby College&nbsp |
| Adam Oel&nbsp | EMBL Heidelberg&nbsp |
| Aki Ohdera&nbsp | &nbsp |
| Jennifer Olori&nbsp | SUNY Oswego&nbsp |
| Andrew Ontano&nbsp | University of Wisconsin - Madi&nbsp |
| Ceren Ordas&nbsp | Iowa State University&nbsp |
| Kyle Orr&nbsp | Humboldt State University&nbsp |
| Yasemin OZKAN AYDIN&nbsp | Georgia Tech&nbsp |
| Kevin Padian&nbsp | UC Berkeley&nbsp |
| Sitara Palecanda&nbsp | &nbsp |
| A. Richard Palmer&nbsp | University of Alberta&nbsp |
| Lynne Parenti&nbsp | National Museum of Natural History&nbsp |
| Olivia Pares&nbsp | UMCES IMET&nbsp |
| Scott Pedersen&nbsp | &nbsp |
| Wei-Xuan Peng&nbsp | Wageningen University&nbsp |
| Ann Petersen&nbsp | &nbsp |
| Lauren Petrullo&nbsp | &nbsp |
| Ayana N Phelps&nbsp | University of Cincinnati&nbsp |
| John Phillips&nbsp | University of Idaho&nbsp |
| John F. Pilger&nbsp | Agnes Scott College&nbsp |
| Maria Pimienta&nbsp | Florida International University&nbsp |
| Michael Pittman&nbsp | &nbsp |
| David Plachetzki&nbsp | University of New Hampshire&nbsp |
| Aaron Pomerantz&nbsp | &nbsp |
| Shirley Pomponi&nbsp | FAU-Harbor Branch&nbsp |
| ARTHUR PORTO&nbsp | &nbsp |
| Sushant Potdar&nbsp | University of Arkansas&nbsp |
| Kara Powder&nbsp | Clemson University&nbsp |
| Amanda Powers&nbsp | Harvard Medical School&nbsp |
| Megan Powers&nbsp | University of Washington&nbsp |
| Devaleena S Pradhan&nbsp | Idaho State University&nbsp |
| Amanda Puitiza&nbsp | Hunter College&nbsp |
| Rebecca Pyles&nbsp | East Tennessee State University&nbsp |
| Daniela Rößler&nbsp | Harvard University&nbsp |
| Stan Rachootin&nbsp | Mount Holyoke College&nbsp |
| Jonathan Rader&nbsp | University of North Carolina&nbsp |
| Md Sadequr Rahman&nbsp | &nbsp |
| Gowri rajaratnam&nbsp | &nbsp |
| Amrapali Prithvisingh Rajput&nbsp | Guangxi University&nbsp |
| Desmond Ramirez&nbsp | UMass Amherst&nbsp |
| Brooke Reams&nbsp | &nbsp |
| Sierra Reese&nbsp | &nbsp |
| Susan Rehorek&nbsp | Slippery Rock University&nbsp |
| John Reiss&nbsp | Humboldt State University Department of Biology&nbsp |
| Adam Reitzel&nbsp | UNC Charlotte&nbsp |
| Susan Renn&nbsp | REED COLLEGE&nbsp |
| Carlee Resh&nbsp | Central Michigan University&nbsp |
| Julie Reynolds&nbsp | Ohio State University&nbsp |
| Sarah Rheinsmith&nbsp | UNCW&nbsp |
| Mary Rice&nbsp | Smithsonian Marine Station&nbsp |
| Lynn Riddiford&nbsp | University of Washington&nbsp |
| Ajna Rivera&nbsp | University of the Pacific&nbsp |
| Matthew Rockman&nbsp | NYU - CGSB&nbsp |
| Carlos Rodriguez-Saltos&nbsp | &nbsp |
| Crystal Rogers&nbsp | UC Davis School of Veterinary &nbsp |
| Heide Rohland&nbsp | SICB&nbsp |
| Ariana Rojas &nbsp | &nbsp |
| Laura Romano&nbsp | Denison University&nbsp |
| Zachary Root&nbsp | University of Colorado Boulder&nbsp |
| Airlie Sattler Rose&nbsp | University of Texas Pan American&nbsp |
| Joseph Ross&nbsp | Cal. State University, Fresno&nbsp |
| Rachel Roston&nbsp | University of Washington&nbsp |
| Marzieh Rouzbehani&nbsp | Trinity University&nbsp |
| Elizabeth Rudzki&nbsp | University of Pittsburgh&nbsp |
| Allison Rugila&nbsp | Stony Brook University&nbsp |
| Kelsi Rutledge&nbsp | UCLA&nbsp |
| Lucy Ryan&nbsp | None&nbsp |
| Alexa Sadier&nbsp | UCLA&nbsp |
| Julita Sadowska&nbsp | University of Białystok&nbsp |
| Edward Saiff&nbsp | Ramapo College of New Jersey&nbsp |
| Maria Salazar Nicholls&nbsp | Boston University&nbsp |
| Jill Sanderson&nbsp | &nbsp |
| NATALIA SANDOVAL HERRERA&nbsp | University of Toronto&nbsp |
| Thomas Sanger&nbsp | Loyola University in Chicago&nbsp |
| Scott Santagata&nbsp | Long Island University-Post&nbsp |
| Ushrayinee Sarker&nbsp | &nbsp |
| Brendan Savage&nbsp | &nbsp |
| Alan Savitzky&nbsp | Utah State University&nbsp |
| Jelena Scepanovic&nbsp | University of Chicago&nbsp |
| Emma Schachner&nbsp | Louisiana State University Health Sciences Center&nbsp |
| Emma Schachner&nbsp | Louisiana State University Health Sciences Center&nbsp |
| Gerhard Schlosser&nbsp | Natnl Univ of Ireland (NUI) Galway&nbsp |
| Stephan Schneider&nbsp | &nbsp |
| Heiko Schoenfuss&nbsp | St Cloud State Univ&nbsp |
| Ryan Schott&nbsp | Smithsonian &nbsp |
| George Schulte&nbsp | Truman State University&nbsp |
| Anthony Scibelli&nbsp | Tufts University&nbsp |
| Elaine Seaver&nbsp | University of Florida&nbsp |
| Kaleb Sellers&nbsp | &nbsp |
| Gayani Senevirathne&nbsp | University of Chicago&nbsp |
| Jeanne Serb&nbsp | Iowa State University&nbsp |
| Shirley Serrano Rojas&nbsp | &nbsp |
| Emily Setton&nbsp | Univ. of Wisconsin-Madison&nbsp |
| Joel Sharbrough&nbsp | &nbsp |
| Prashant Sharma&nbsp | Univ. Wisconsin-Madison&nbsp |
| Shay Sharma&nbsp | &nbsp |
| Lucas Jeremiah Sharrett&nbsp | Christopher Newport University&nbsp |
| Bikram Shrestha&nbsp | University of Miami&nbsp |
| Usama Sikandar&nbsp | &nbsp |
| Stefanie Siller&nbsp | &nbsp |
| Dasia Simpson&nbsp | &nbsp |
| Preetpal Singh&nbsp | North Dakota State University&nbsp |
| Christopher Smaga&nbsp | &nbsp |
| Garrett Smedley&nbsp | Iowa State University&nbsp |
| Annika Smith&nbsp | University of Florida&nbsp |
| Frank Smith&nbsp | University of North Florida&nbsp |
| Brandt Smith&nbsp | University of North Texas&nbsp |
| Heather Smith&nbsp | Midwestern University, Anatomy&nbsp |
| Daniel Smith Paredes&nbsp | G&G YaleUniversity&nbsp |
| Emilie Snell-Rood&nbsp | University of Minnesota&nbsp |
| Francesca Socki&nbsp | University of Minnesota &nbsp |
| Aurora Solla&nbsp | Reed College&nbsp |
| Camilla Souto&nbsp | Smithsonian NMNH&nbsp |
| Sierra Spears&nbsp | &nbsp |
| Hayden Speck&nbsp | &nbsp |
| Francois Spitz&nbsp | University of Chicago&nbsp |
| Tyler Square&nbsp | UC-Berkeley&nbsp |
| Mansi Srivastava&nbsp | Harvard University&nbsp |
| Katie Staab&nbsp | McDaniel College&nbsp |
| Daniel Stadtmauer&nbsp | Yale University&nbsp |
| Kathryn Stanchak&nbsp | University of Washington&nbsp |
| Daniel Stanton&nbsp | University of Florida&nbsp |
| Caitlin Stapp&nbsp | &nbsp |
| Jeremy Starkey&nbsp | Idaho State University&nbsp |
| Bailey Steinworth&nbsp | &nbsp |
| Thomas Stewart&nbsp | University of Chicago&nbsp |
| Thomas Stewart&nbsp | The University of Chicago&nbsp |
| Thomas Stewart&nbsp | The University of Chicago&nbsp |
| Michelle Stocker&nbsp | Virginia Tech&nbsp |
| Mary Stoddard&nbsp | Princeton University&nbsp |
| Amy Strauss&nbsp | &nbsp |
| Madeline Strom&nbsp | New Mexico State University&nbsp |
| Colin Summers&nbsp | Friday Harbor Fish Labs&nbsp |
| Jenny Yi-Ting Sung&nbsp | University of Cincinnati&nbsp |
| Venkata Surapaneni&nbsp | University of Freiburg&nbsp |
| Yuichiro Suzuki&nbsp | Wellesley College&nbsp |
| Billie Swalla&nbsp | University of Washington&nbsp |
| Sharon Swartz&nbsp | Brown University&nbsp |
| Donald Swiderski&nbsp | University of Michigan&nbsp |
| Arianna Tamvacakis&nbsp | University of Arkansas &nbsp |
| Keana Tan&nbsp | University of the Philippines&nbsp |
| Junliang Tao&nbsp | Arizona State University&nbsp |
| Michael Tassia&nbsp | Auburn University&nbsp |
| Kevin Tate&nbsp | Texas Lutheran University&nbsp |
| Michael Temkin&nbsp | St Lawrence Univ&nbsp |
| Veronika Tews&nbsp | DeSales University&nbsp |
| Andrew Thompson&nbsp | &nbsp |
| Michael Tift&nbsp | &nbsp |
| Timothy Torres&nbsp | Midwestern State University&nbsp |
| Ruben Tovar&nbsp | University of Texas at Austin&nbsp |
| Ian Townley&nbsp | Saint George's School&nbsp |
| Tara Tran&nbsp | &nbsp |
| James W Truman&nbsp | University of Washington&nbsp |
| Henry Tsai&nbsp | Missouri State University&nbsp |
| Abbie Tucker&nbsp | King's College London&nbsp |
| Alexandrea Turnquist&nbsp | Loyola University Chicago&nbsp |
| Micah Turrell&nbsp | &nbsp |
| Kay Tweeten&nbsp | St. Catherine University&nbsp |
| Catherine Tylan&nbsp | &nbsp |
| Yu Umeki&nbsp | &nbsp |
| James Van Dyke&nbsp | La Trobe University&nbsp |
| John Vanden Brooks&nbsp | Midwestern University&nbsp |
| Jarrod Varnell&nbsp | University of Arkansas&nbsp |
| Adrian Vasquez&nbsp | Wayne State University&nbsp |
| Rachel Verdi&nbsp | &nbsp |
| Alexandra Vetrova&nbsp | N.K. Koltsov Institute of Deve&nbsp |
| Matthew Vickaryous&nbsp | Ontario Veterinary College, University of Guelph&nbsp |
| Carla Nathaly Villacis Nunez&nbsp | University of Michigan&nbsp |
| Gunter Wagner&nbsp | Yale University&nbsp |
| David Wake&nbsp | Univ of California&nbsp |
| Marvalee Wake&nbsp | University of California, Berkeley&nbsp |
| Shuo Wang&nbsp | USC&nbsp |
| Bo Wang&nbsp | Stanford University&nbsp |
| Wen-Yeu Wang&nbsp | Tulane EEB&nbsp |
| Andrea Ward&nbsp | Adelphi University&nbsp |
| Daniel Warner&nbsp | Auburn University&nbsp |
| Akinobu Watanabe&nbsp | NY Institute of Technology&nbsp |
| Junya Watanabe&nbsp | University of Cambridge&nbsp |
| Jacqueline Webb&nbsp | University of Rhode Island&nbsp |
| Christina Webb&nbsp | &nbsp |
| Ceri Weber&nbsp | &nbsp |
| Mark Webster&nbsp | University of Chicago&nbsp |
| Nicole Webster&nbsp | Clark University&nbsp |
| Terry West&nbsp | &nbsp |
| JoJo West&nbsp | Rice University&nbsp |
| Jacquelyn Whisenant&nbsp | University of Wisconsin: MSN&nbsp |
| Heather White&nbsp | &nbsp |
| Natalie Whitehead&nbsp | UCR&nbsp |
| Carl Whitesel&nbsp | UC San Diego&nbsp |
| Malachi Whitford&nbsp | San Diego State University&nbsp |
| Ashley Williams&nbsp | Auburn University&nbsp |
| Sierra Williams&nbsp | Oklahoma State University&nbsp |
| Keen Wilson&nbsp | University of Cincinnati&nbsp |
| Harrison Wojtas&nbsp | Michigan State University&nbsp |
| Mariana Wolfner&nbsp | Cornell University&nbsp |
| Molly Womack&nbsp | &nbsp |
| Bradley Wood&nbsp | Wellesley College&nbsp |
| Tamsin Woodman&nbsp | University of Florida &nbsp |
| Mary Woodruff&nbsp | Indiana University, Bloomington&nbsp |
| Gavin Woodruff&nbsp | &nbsp |
| Jeanette Wyneken&nbsp | Florida Atlantic Univ&nbsp |
| Wei Xu&nbsp | TAMU Corpus Christi&nbsp |
| Michael Yorsz&nbsp | Colby College&nbsp |
| Mark Young&nbsp | &nbsp |
| Rebecca Young&nbsp | University of Texas&nbsp |
| Louis Zachos&nbsp | University of Mississippi&nbsp |
| Christina Zakas&nbsp | North Carolina State University&nbsp |
| Edward Zalisko&nbsp | Blackburn College&nbsp |
| Hannah Zang&nbsp | Lyon College&nbsp |
| Miriam Leah Zelditch&nbsp | University of Michigan Museum of Paleontology&nbsp |
| Yu Zeng&nbsp | Chapman University&nbsp |
| Paige Zhang&nbsp | UCLA&nbsp |
| Arthur Zhao&nbsp | &nbsp |
| Yi Zhong&nbsp | Arizona State University&nbsp |
| Ruijie Zhu&nbsp | University of Virginia&nbsp |
| Nicholas Zinck&nbsp | Dalhousie University&nbsp |
| CECILIA ZUMAJO CARDONA&nbsp | The New York Botanical Garden&nbsp |