Meetings


SICB Annual Meeting 2013
January 3-7, 2012
San Francisco, CA
Libbie Hyman Auction
One of the exciting DIZ-sponsored events at this year's meeting will be the Libbie Hyman auction. Come, and bring your friends from other Divisions, as the auction items are attractive to all--and we would love to get as much money as possible for the student scholarships. There will be a wide array of amazing items on the auction block, from big to small pieces, something for everyone! Some of the items we know about so far include: a weekend get-away at the Pearse home in Monterey, lots of amazing knitted invertebrates, larval sculptures, fused glass items, a two-foot-diameter steel crab art piece, a full set of Libbie Hyman's The Invertebrates, and (amazingly) a signed, framed Christmas card that Gunnar Thorson sent to Alister Hardy in 1957. We thought it would be a good idea to highlight some of the amazing invertebrate-themed "loot" that will be available for bidding, so check out the various pictures below to get excited about the options!
Want to own this cool t-shirt? Come bid on it at the Libbie Hyman Auction at the San Fran meeting!
Want to stay here (with Vicki and John Pearse)? Bid on it at the Libbie Hyman Auction! Aerial view of Hopkins Marine Station to the left, the little cove on the west side of Hopkins, and the Pearse house (the dark brown one) across from the cove. (Bed & Breakfast for 1 or 2 guests. Includes full hot breakfast of Vicki's Specials, plus the use of 2 guest cards to the Monterey Bay Aquarium, only steps away! Walk to a diversity of Cannery Row or downtown Pacific Grove restaurants.)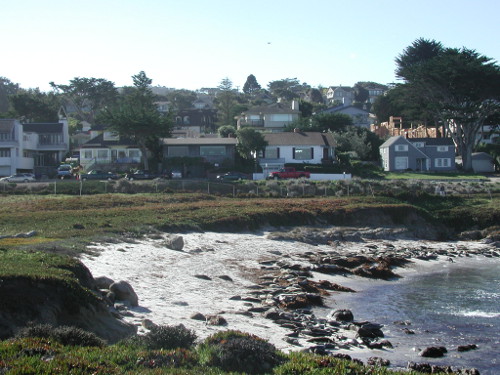 Looking across the cove on Hopkins property, toward the Pearse house (the brown one, center-left). Stay at the ocean-front historic former home of Ralph & Mildred Buchsbaum, biologists and friends of Libbie Hyman. Conditional on hosts being at home at the desired time, to be mutually arranged with Buyer. Double bed. No smoking, no pets. Gift good for 1 year; expires January 2014. Estimated Value: $250-$300; Suggested Starting Bid: $200). Note the harbor seals on the beach, a popular local attraction.
Steel crab art piece that will be available at the Libbie Hyman auction. Diameter of the piece is two feet.
Signed, framed Christmas card that Gunnar Thorson sent to Alister Hardy in 1957. This will be available at the Libbie Hyman auction. The pen and ink drawing is of Golfingia by Poul Winther according to instructions by Thorson in 1956 and is the front of the card.
The handwritten text of Thorson's message to Hardy is inside the card and thus is not visible because of the framing. A typewritten copy of the text is affixed to the back of the frame. The provenance through which Richard Fox (the person donating the card) came to be in possession of the card is included also on the back.
You can take this knitted sea slug home at the upcoming auction at the Annual Meeting for the Hyman Fund. You can also express your creativity and care for other students by contributing to the auction. Knitted by: Karen Chan
I get a warm fuzzy feeling just looking at this one. What a great favorite animal for a child (or a child at heart)! Knitted by: Abby Cahill
More amazing knitted sea creatures! Knitted by: Abby Cahill
And cool land animals. . .or is it a marine snail? Knitted by: Abby Cahill
No nematocysts here, but you can see that it is extruding eggs! (or am I reading too much into that?) Knitted by: Abby Cahill
You'll have to outbid Erika Iyengar for this one, since one of her kids says his favorite animal is Pycnopodia. :-) Knitted by: Abby Cahill
Artist photographer Susan Middleton has donated a gorgeous print of a flatworm. The image is a 16 x 20 archival pigment print printed on German Hahnemuhle paper, which has a mat surface so it has a watercolor quality.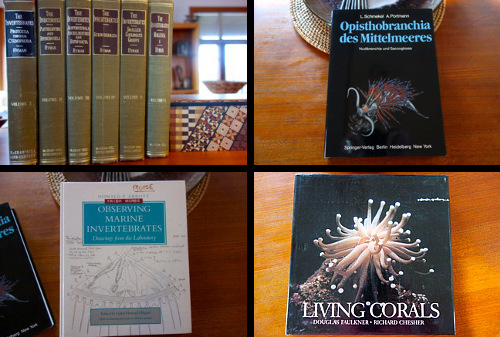 Trish Morse has donated a variety of books from her personal collection, including these exciting titles. Come, peruse, and be ready with credit card/checkbook in hand to bid hotly on these erudite eye/brain candies!