The George A. Bartholomew Award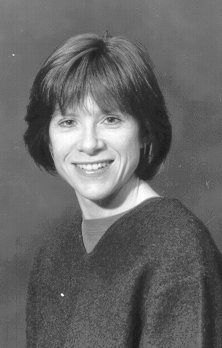 The 1999 Bartholomew Award recipient, Kathleen Gilmour
Kathleen Gilmour graduated from McMaster University, Canada, in 1988 with a B.Sc. (Hons) in biology and a strong interest in respiratory physiology (primarily of fish). She then promptly set off for the University of Cambridge, England, to pursue a Ph.D. on insect flight muscle under the supervision of Dr. Charlie Ellington. Having learned her way around the inside of a bumblebee's thorax and the myriad of Cambridge colleges, she returned to Canada to take up a postdoctoral position (Eastburn Fellowship) in Dr. Steve Perry's laboratory and became enthralled by the intricacies of carbon dioxide excretion and acid-base status in fish. A second postdoctoral stint with Dr. Chris Wood provided experience in fish gill cell culture and ionic regulation, and she then moved to the University of Glasgow, Scotland, as a temporary lecturer where she worked on putting all that she'd learned into practice.
In 1998, Katie joined the Department of Biology at Carleton University, Ottawa, Canada where she is currently an assistant professor. Her research, which is funded by NSERC, is focused on understanding strategies of respiratory gas transfer in fish, with an emphasis on carbon dioxide excretion and the role of the enzyme carbonic anhydrase. In particular, her work on extracellular carbonic anhydrase is both challenging and changing the traditional models of carbon dioxide excretion for fish. She has authored or co-authored 29 journal publications and three book chapters since 1993, and currently holds an NSERC University Faculty Award, one of 19 awarded across Canada in 1999.
Bartholomew Award Nominations
DCPB is soliciting nominations for the Bartholomew Award. The Bartholomew Award recognizes a distinguished young investigator (within seven years post-Ph.D.) in comparative physiology, comparative biochemistry and related functional fields. The recipient presents a special lecture at the Annual Meeting. Past recipients are Barbara Block, Peter Wainwright, Michael Dickinson, Stephen Secor, Gretchen Hoffman, Tyrone Hayes and Kathleen Gilmour.
Self-nominations are encouraged and should be accompanied by a current curriculum vitae, three letters of recommendation and reprints of three recent publications. Letters of nomination should include a brief description of the nominee's research accomplishments. Nominations should be submitted by May 30, 2000, to:
Dr. Steven Hand, Chair, DCPB
Department of EPO Biology
N122 Ramaley Building
University of Colorado
Boulder CO 80309-0334
E-mail: hands@spot.colorado.edu
The award, which is sponsored by DCPB, was named in honor of George A. Bartholomew, who championed young students throughout his career. Please send your donations to the SICB Business Office.