A Message from the DEE Leadership
Frances Bonier, Chair, chair.dee@sicb.org;  Sarah Diamond, Program Officer, dpo.dee@sicb.org; Christine W. Miller, Secretary, secretary.dee@sicb.org
We are trying something a bit new with this Fall 2021 newsletter – a collaborative approach to make this newsletter concise and hopefully an easier read. We first give you all the latest SICB Division of Ecology and Evolution news, and then below you will see profiles of several postdoctoral and graduate student DEE members. We hope you enjoy!
First, a bit of an update on DEE Division Officer positions and election results. We are excited to welcome Ryan Earley, who won the election for Division Secretary-Elect. Ryan will serve as Secretary-Elect for 2022-23, and then take over the Secretary position from Christine Miller in January 2023. Sarah Diamond is continuing as Division Program Officer through the upcoming meeting in January 2022, and then current DPO-Elect Martha Muñoz will take over. And Fran Bonier is continuing as Division Chair until 2023, at which point current Chair-Elect Tonia Schwartz will take that role. We will be looking for nominees (including self-nominations) for candidates for Chair-Elect and Program Officer-Elect in the coming months. All the current Division Officers would be happy to answer questions about their roles, so if you're interested in learning more and possibly nominating yourself or someone else for one of these positions, please get in touch!
Several proposed amendments to the DEE Bylaws were voted upon this summer and passed. Updated bylaws, reflecting these changes, are posted on the DEE website.
Anusha Shankar is continuing as our division's postdoc rep through January 2023 and is working hard to improve communications and outreach (you can now find us on Slack, Twitter, and Facebook), and to plan a networking social event at SICB 2022. We're hoping to make it bigger and more inclusive than it's been in the past (more about that, below). We're also considering a name change – for the past several years, the social has been called "Beers & Brains," but some have suggested that name might not be the most inclusive. We're actively looking for suggestions for new names – we even recently ran an informal poll on Twitter. Overall, it seems like there is interest in a name change, so please send us any ideas you have! So far, our favorite of the write-in suggestions on Twitter was "Nacho Average Mixer" or maybe "Bears, Beets & Battlestar Galactica." But perhaps only fans of The Office will appreciate that last one…
On the topic of expanding our social event – Beers & Brains has grown substantially over the past years, but we have been limited in how many DEE members we could include in the event because of our limited budget. It's super expensive to host a crowd of hungry and thirsty biologists in an urban venue, close to the conference site, but we really want all early career DEE members to be able to attend if they want to. We brought up the idea of adding small, division-specific dues (similar to those charged by several other SICB divisions) at the in-person Member Meetings over the past few years, and the idea seemed to have general support. We recently ran a ballot measure asking DEE members to vote on the addition of dues for DEE membership. The measure passed by a large margin, but not everyone supported it, so we wanted to further explain our motivation and rationale for these dues. One of the suggestions that has often come up in past discussions on this issue was that the dues ought to only be paid by full faculty members, and not student and postdoc members. This idea had broad support, but we were told by the powers-that-be that member category-specific divisional dues would be very difficult to implement on the web form. So, instead, we are committed to keeping these dues as low as we can (the current plan is for it to be $5 per member for 2022 membership) so that they do not become a barrier to division membership, especially for our early career members. With a small increase in dues for everyone, we are optimistic that Beers & Brains (or whatever we end up calling it) in 2023 can be a big, inclusive event!
We have some great DEE-sponsored symposia for the upcoming 2022 meeting in Phoenix, and we hope you will check these out:
January 5th
 

DNA metabarcoding across disciplines: sequencing our way to greater understanding across scales of biological organization

Ecoimmunology: what unconventional organisms tell us after two decades

Lesser-known transitions: organismal form and function across abiotic gradients
January 6th
Causal mechanisms of interspecific metabolic scaling patterns

Phenological plasticity: from molecular mechanisms to ecological and evolutionary implications
January 7th
 

Integrating ecology and biomechanics to investigate patterns of phenotypic diversity: Evolution, development, and functional traits

The deep and shallow history of aquatic life's passages between marine and freshwater habitats
It's already time to start thinking about putting together symposia for 2024! We encourage you to get in touch with Martha Muñoz, our incoming DEE Program Officer, with your ideas. Division Program Officers, when given enough advance notice, can often help refine proposals and help with common challenges. As a starting point, keep in mind that we are looking for something beyond a typical contributed session. We are looking for broad conceptual framing, unique synthesis across diverse subfields, and current professional topics of broad interest (such as diversity, equity, and inclusion) that will move our fields forward and make for a better research environment and culture.
One of the highlights of the SICB meeting is the best student talks and posters that we in DEE call the Raymond B. Huey awards. We have seven talks and five posters selected as finalists for 2022. It is so rewarding to support our student members, and the work they present can be some of the most exciting of the meeting. Keep a watch on the final schedule for the date and time for these events.
We are so excited to offer SICB+ this year. SICB+ is our new virtual meeting to be held January 14-March 31 online. Two hundred fifty submissions have been designated for SICB+ with many more likely to be shared between the in-person and online event. We would like to encourage everyone, including those registered for the in-person conference, to engage in SICB+. It's not too late for our in-person registrants to contribute presentations to SICB+. Details will be forthcoming.  
For many of us, the SICB meeting (and SICB+ this year!) represent some of the best of science and reminds us why we chose our career directions. Dig in and immerse yourselves – there are hundreds of great DEE talk and poster contributions this year across SICB and SICB+. We wish you a great meeting.
DEE Student and Postdoctoral Profiles
James Boothroyd
Research description: I study reproductive tradeoffs in leaf-footed bugs (Hemiptera: Coreidae), specifically investigating how males divide resources between their energetically expensive weapons, testes and flight muscles. Males in this family fight for territories with their weaponized hind legs, which they can drop in a behavior called autotomy. As autotomized limbs to not grow back, I use this to test how loss of a hind leg weapon impacts other traits, like sperm production and dispersal. I hope to observe how this potential tradeoff changes over evolutionary time in different environments, varying host plant over many generations, to observe how these trade-offs differ between stable and changing environments.
Hobbies and interests: In my spare time I enjoy long runs to find cool worms on the beach, oil painting in poorly ventilated spaces, and playing Dungeons and Dragons with my friends.
Most excited about for SICB 2022: I am excited to present my work as a full talk, as well as to meet new people at an in-person conference once again!
Advice for other early career scientists: Respect your mental health and find ways to practice self-care. You'll be happier and get a lot more done if you are taking care of yourself.
Amanda S. Cicchino
Research description: I strive to answer questions related to trait evolution and vulnerability to climate change by integrating physiological, behavioural, and genomic approaches. My current focus is on linking organismal thermal physiology to the landscape along elevation gradients. 
Hobbies and interests: I enjoy being active and spending time outdoors. I play basketball and ultimate as much as I can, and since moving to Colorado, I have picked up rock-climbing. I also love big-budget action movies with weak plots and fancy cars. 
Most excited about for SICB 2022: I cannot wait to connect with folks in person and to hear about their cutting-edge research! 
Advice for other early career scientists: Work on taking everything in stride; challenging situations can foster great ideas! And always say yes to ice cream after a long day in the field!
Personal website: amandascicchino.weebly.com
Ariel Kahrl
Research description: I am fascinated by the diversity of sperm morphology in the animal kingdom. My research aims to understand how and why sperm are so diverse, and I use comparative methods to discover major evolutionary forces shaping sperm morphology, experimental manipulations to understand phenotypic plasticity, and selection analyses to study sperm traits in wild populations. During my PhD I used Anolis lizards as my study system, but during my postdoc I've been focused on generating a giant database of sperm morphology across all animals to test broad evolutionary questions. Check it out at spermtree.org! 
Hobbies and interests: I love to sew, swing dance, and go on adventures with my family and dog.
Favorite SICB memory: When I started going to SICB in 2014 I didn't know anyone and thought that everyone around me was a big name. Flash forward, my husband and I land in San Francisco for SICB 2018. We run into three people I know in the airport and dozens more at the hotel and conference center, resulting in lots of happy reunions and big hugs. My husband thought I knew everyone. It's one of my favorite parts about SICB, returning to such an amazing community of passionate scientists and friends. Hope to see you all in person and hear about your amazing science in 2022!
Advice for other early career scientists: Science is full of rejection and failure, which can be really exhausting sometimes. Make sure that you celebrate even the small accomplishments of you and your peers to balance it out!
Recent news: Here's some nice press coverage we got from our recent Nature E&E paper. I also made a little YouTube video to summarize the paper.
Personal website: https://arielkahrl.weebly.com/
Anusha Shankar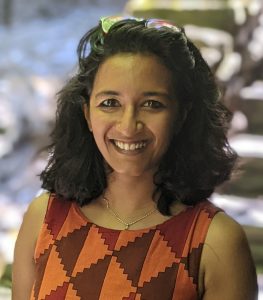 Research description: I am fascinated by hummingbirds' strategy of entering a low-energy state similar to hibernation, called torpor, at night to save energy. In my current project I am exploring how they can get cold (50°F) and rewarm safely every night, without damaging organs like their hearts and brains. I do this by integrating ecology, physiology, and transcriptomics. During my PhD (at Stony Brook University, NY), I used infrared video to capture the secret nightlife of hummingbirds. I've gotten two National Geographic Society grants, one to fund some of my PhD fieldwork in Ecuador, and one for my current project. Before my PhD, I tracked king cobras and studied giant birds—hornbills—in India.  I plan to work longer term in the tropics, with a home base in India.
Hobbies and interests:  I am passionate about teaching and mentoring and have mentored 18 students on my projects. I gain my motivation from science communication and outreach—especially talking to grades 3-7. I love salsa, bachata, and swing dancing, photography, and reading fiction.
Most excited about for SICB 2022: After having benefited for years from being a student and postdoc member of SICB, and of DEE and DCPB, I am very excited to help organize events with DEE as the DEE postdoc rep, and to help build the community. I have gained so much from the SICB travel grants, mentoring programs, and from being around the SICB community, and am very invested in giving back!
Advice for other early career scientists: Remember that your research path is not a sprint, it's a lonnng marathon – and set expectations for yourself accordingly. It's easy to get bogged down by deadlines and forget that you have to sustain this work for a while. Take breaks, do what you truly love, and enjoy yourself- spend time outside and remind yourself every week of the things you love, and why you are doing what you do!
Recent news: I just got back from an incredible documentary filmmaking workshop called the Jackson Wild Media Lab, where different groups each partnered with a local NGO to make short documentaries. It's important to me to spend time on these para-academic interests that keep me invested and engaged in my core research- and it works!
Personal website: anushashankar.weebly.com
Ummat Somjee
Research description: The horns in antelopes, elongated heads of giraffe weevils and elephant tusks are all examples of animal weapons. These structures often co-evolve with muscle and other physiology needed to maintain their integrity and support their function. In many cases, larger species invest in disproportionately larger weapons, yet we know little about the energetic costs of weapons. My research focuses on how these exaggerated traits push animals to physiological extremes that provides a window into trait evolution. Resource allocation trade-offs and energy expenditure can all play important roles in shaping the evolution of weapons, but animals also sometimes find physiological tricks to reduce these costs.
Hobbies and interests: I gravitate toward hobbies that take me into nature. I enjoy rock-climbing, bike-touring, hiking and trail running. I also do origami very passionately, but not very well.
Fun memory from SICB: SICB was the first large conference I attended as a graduate student, I was blown away by the breadth of topics and in depth of field-specific knowledge on what I thought were some very obscure sub-fields. There is a sense that everyone has permission to be curious.
Advice for other early career scientists: Every successful academic finds a different way to be successful. We all face different challenges, have different intrinsic motivations, and find meaning in different ways. For me it was important to find people who support different aspects of my identity and find opportunities outside of academia to enrich my experience along the way. I would also say take every piece of advice with a grain of salt, this included!
Recent news: My research on the metabolic maintenance costs of weevils was recently featured in the New York Times.
Personal website: www.ummatsomjee.com
Large weapons for a small price – Male New Zealand giraffe weevils bear extremely exaggerated heads that they use in jousting-like competitions for mating opportunities. Males in this species vary more than 30-fold in adult body mass, the most extreme reported variation of any beetle species. Larger males invest disproportionately more in their weapons compared to small males, but these large males still have lower per-gram metabolic expenditure compared to small ones. How do these large males bear the apparent increased energetic costs of a disproportionately larger weapon? Ummat Somjee found that they use a physiological trick; as male weapons get larger they invest relatively less in metabolically active muscles and nerves and more in cuticle. In other words weapons get larger, their per-gram metabolic maintenance costs decreases.