Message from the Division of Botany Leadership
Everything seems to be taking longer these days, including writing this newsletter, so we'll keep things brief.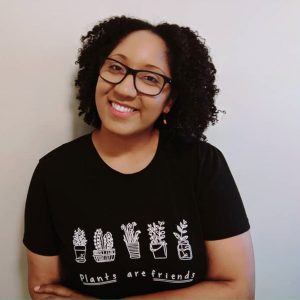 This past summer, Division of Botany member Tanisha Williams (Bucknell University) initiated Black Botanists Week and served as one of 11 members of the social media campaign's organizing committee. Established to "promote, encourage, create a safe space for, and find more Black people (and BIPOC) who love plants," the campaign engaged with thousands of online supporters in its inaugural week. Members of the committee were featured in dozens of news stories, including coverage in USA Today, Discover Magazine, and WNYC radio. To learn more, visit https://blackbotanistsweek.weebly.com/; and to hear more about the history of black botany check out the groundbreaking new virtual lecture series (cosponsored by the committee and Holden Arboretum), "Growing Black Roots: The Black Botanical Legacy," at https://holdenarb.org/visit/events-lectures/scientist-lecture/.
Although we are headed into a meeting like no other, I can assure you that the Program Committee and Executive Committee have been taking an incredibly well-researched and thoughtful approach to putting together a virtual meeting. We will have a Best Student Presentation session for the Division of Botany, as well as a Best Student Poster competition. We have over a dozen other plant talks in sessions across the program. The SICB-wide education symposium on Tuesday promises to have interesting botany content, and plants are well represented in Wednesday's symposium on the Biology of Sticky. DOB is also proud to be sponsoring a special session at SICB 2021 in honor of the late Dr. Vicki Funk, titled "Evolution and Biogeography on Islands." The session will take place on February 26 and will be kicked off with a tribute from Dr. Funk's friend and colleague at the Smithsonian, Warren Wagner.
Meeting virtually presents a new set of challenges but also new opportunities for accessibility and the way we interact. Invite your colleagues to register or host a watch party for the talks that interest you most. If you have any questions about the meeting or preparing a talk or poster, please feel free to reach out. Also, please give us input on how we might have a DOB social, and what you want social and informal interactions to look like this year.
Reminders:
HELP US GROW! Tell your colleagues about us and encourage them to reach out to DOB leadership, become a DOB member, and send their integrative botanical work to the SICB meeting and/or journals. Don't forget to renew your membership and register for the meeting early.
SYMPOSIA: The 2023 SICB meeting in Austin, Texas will soon be soliciting proposals for symposia and it would be great to propose symposia that could have a strong botanical presence.
DOB BUSINESS MEETING: Plan on "virtual" attendance — see the SICB website for more information.
PICTURES! Send me plant pictures you want me to include in future newsletters.
Finally, for any readers feeling overwhelmed, take inspiration from the resilience of the bristlecone pine (Pinus longaeva) that has made it through 4800 years of sun, snow, drought, and wind. No crisis lasts forever and we will make it to the other side. We look forward to seeing many of you at SICB in January!
DOB Leadership: Chair, Chris Martine, Chair.DOB@sicb.org; Program Officer, Janet Steven, DPO.DOB@sicb.org; Secretary, Chris Muir, Secretary.DOB@sicb.org; Student/Postdoctoral Affairs Committee Representative, Morgan Furze, morgan.furze@yale.edu